Hey beautifuls! I would be on Hiatus! Meanwhile, feel free to stalk me as I wander the streets of Hong Kong at:
Instagram: mspetiteloft
Twitter: mspetiteloft
#petiteloftinHK
Looking forward to showing you what I see and do there!!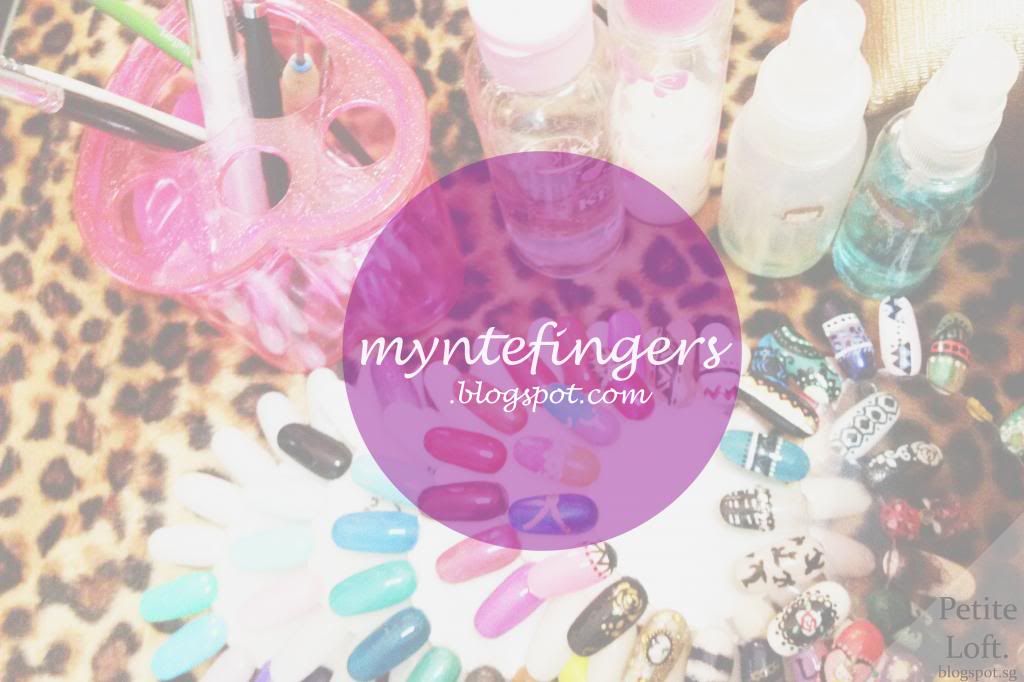 I am so honoured to be sponsored by
MynteFingers
!!! Many of you would have known her from the booth at Scape* 's Flea! If not, don't worry, now you know!!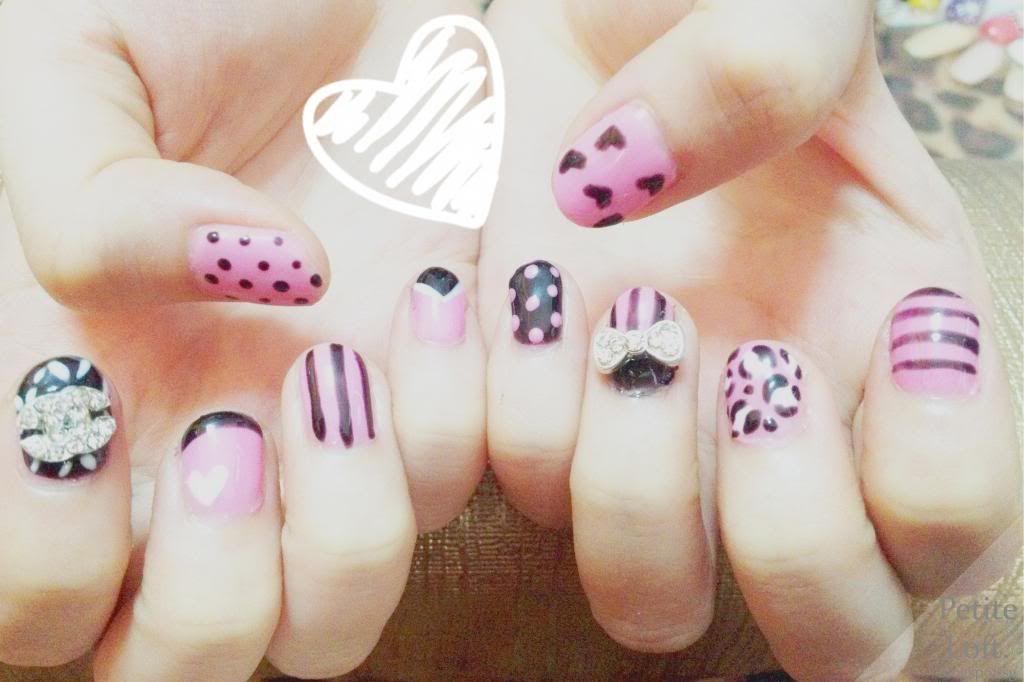 On first of May, I made a trip to her place and got this set of nails done!
Applying the base colour....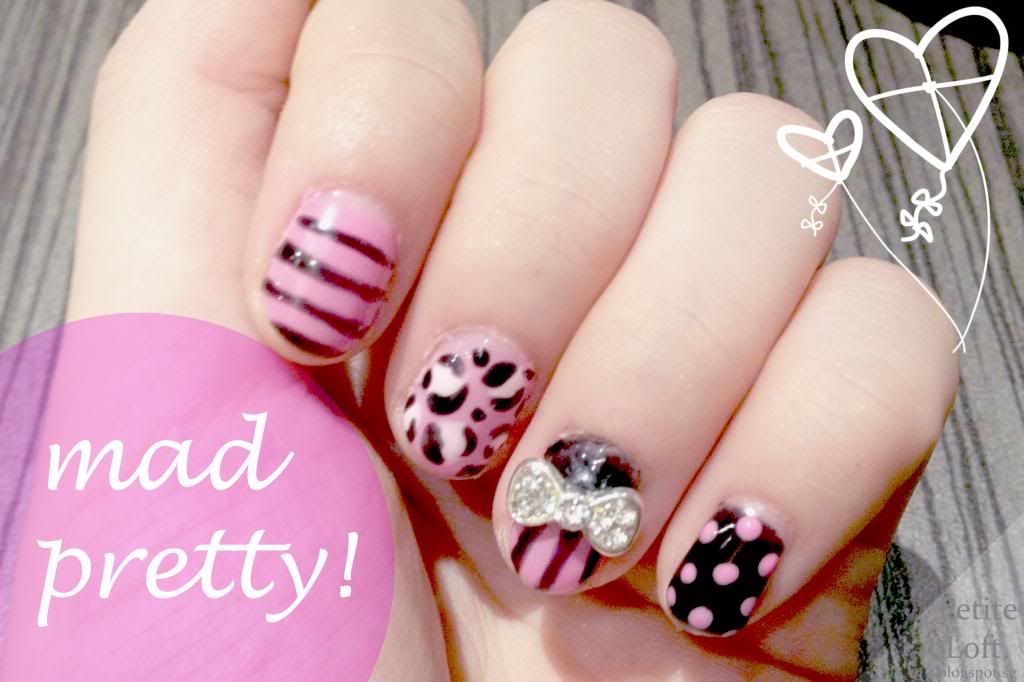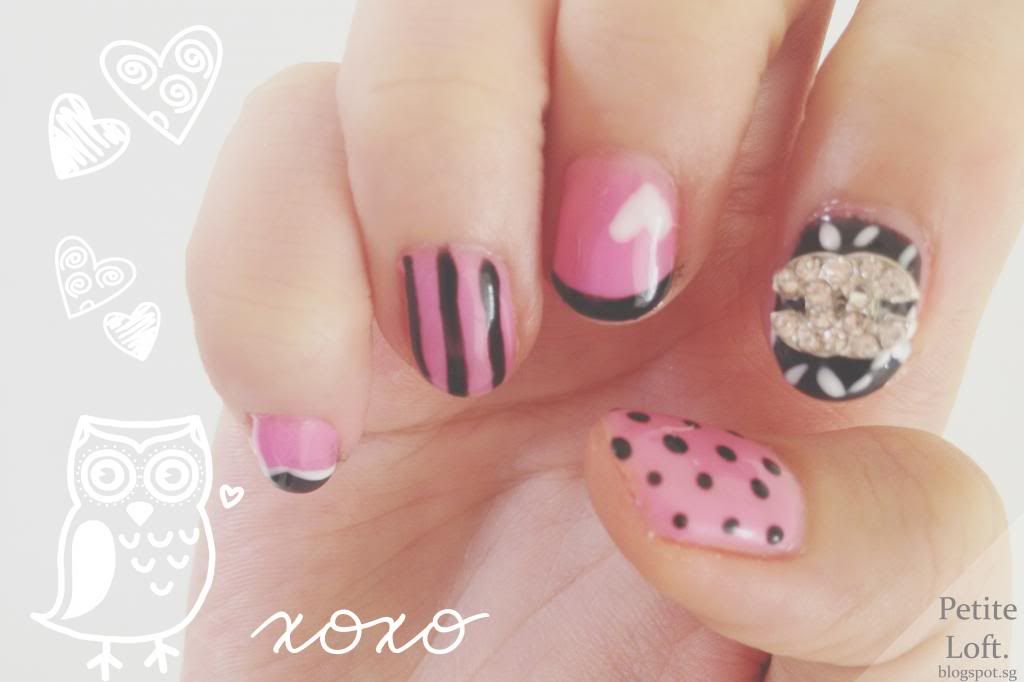 SUPER LOVE! I literally can't stop looking at my nails after I'm done with it! I am really grateful for Mynt's patience! With the super giggly, chatty and forever-full-of-question me, it was pretty much a challenge to hold one's temper and one would definitely want to slap me in the face to shut me up. So, THANK YOU MYNT!!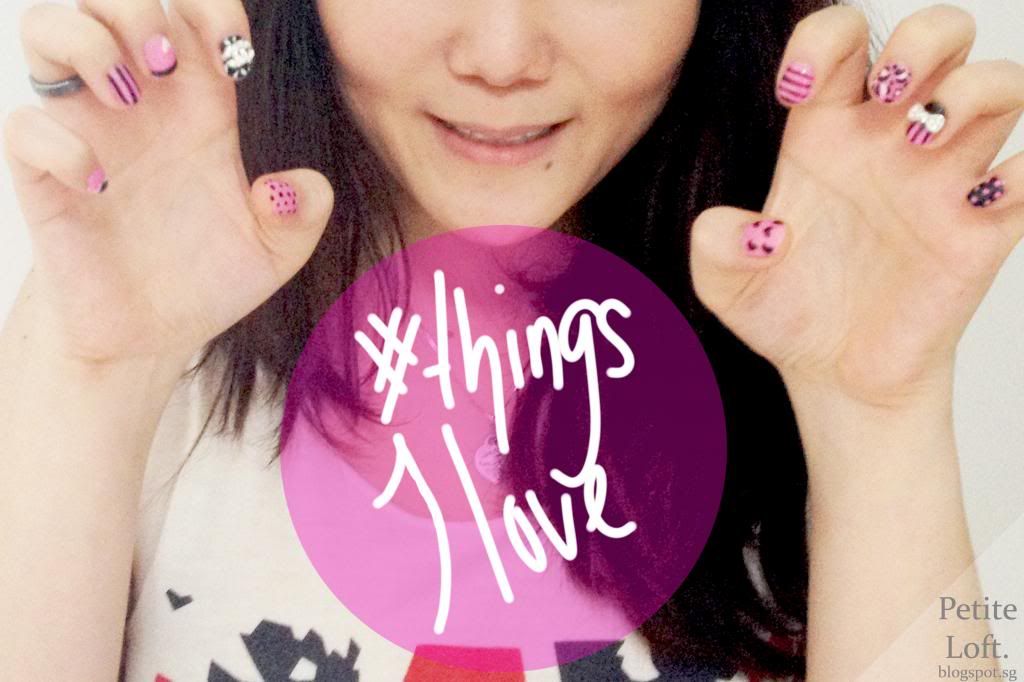 What I really love is that Mynt is very meticulous, really patient and gentle too! Many would notice that some gelish manicure would have a really thick layer of the gelish and have uneven surfaces due to the brush techniques. But with
Myntefingers
, even with design, there is no such issue! Evenly coated but thin and smooth! MAD LOVE!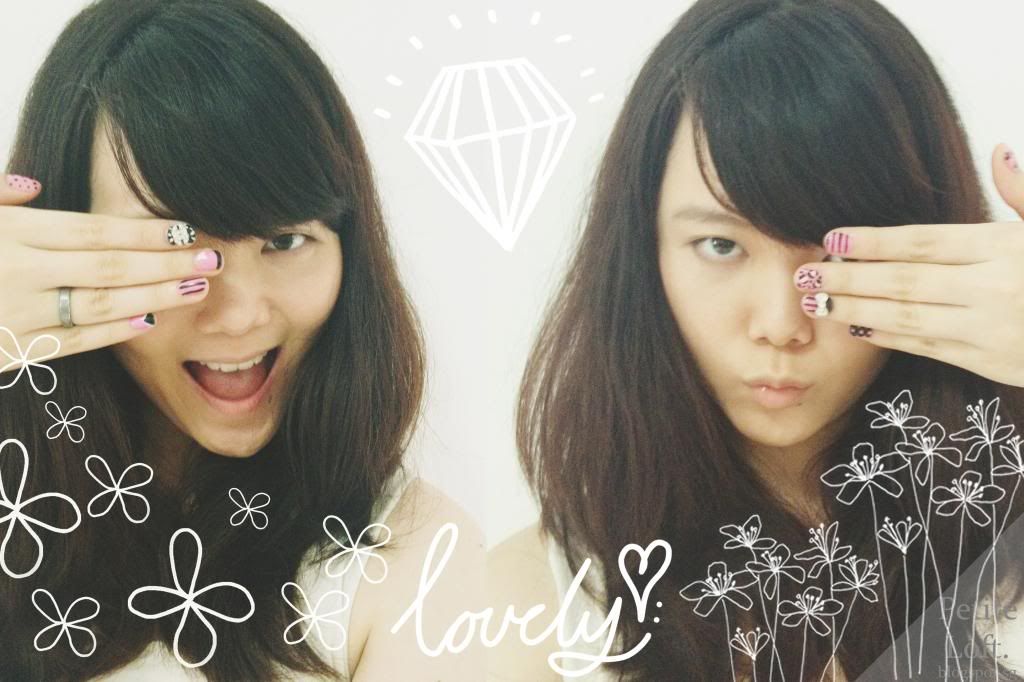 If you are wondering how much a set like mine would cost, it is only for a super affordable price of SGD 55!!!
Cray or what!
Other nail parlour would easily charge 100+ for such details!!!! So grateful for
Myntefingers
who is so willing to provide such service at such low price! Now everyone can have pretty nails without burning a hole in their pockets!!!
These are her rates!! They are crazily affordable!
EXPRESS MANICURE: $6
EXPRESS PEDICURE: $10
EXPRESS MANI&PEDI: $15
*File, buff and 1 Nail colour
CLASSIC MANICURE: $15
CLASSIC PEDICURE: $25
CLASSIC MANI&

PEDI:

$35
*File, buff, cuticle care and 1 Nail colour. Scrub excluded.
EXPRESS GEL MANICURE: $20
EXPRESS GEL PEDICURE: $30
*File, buff and 1

Gel

Nail colour
CLASSIC GEL MANICURE: $

35
CLASSIC GEL PEDICURE: $50
CLASSIC GEL MANI&

PEDI:

$80
*File, buff, cuticle care and
1

Gel

Nail colour

. Scrub excluded.
For more details of her rates, nail art etc, click
here!
AND ON TOP OF THAT,
MYNTEFINGERS
HAS A
MOTHER'S DAY PROMOTION
GOING ON!
1 FOR 1 Express Gel Mani + Pedi!
THIS MEANS: $50 FOR TWO PAX EXPRESS GEL MANI & PEDI*!!OMG! WHAT ARE YOU WAITING FOR?! Pampering your mom on this special day doesn't need to be a bomb to your wallet!
*File, buff and 1

Gel

Nail colour
.Additional charges for nail art as per normal. Check it here!
PLUS, Mynt is now on a new schedule! Instead of just the weekends, she is available from

M

onday till

S

at, 10am-6pm!! Email her

at
myntefingers@hotmail.sg
and book your appointment no

w!!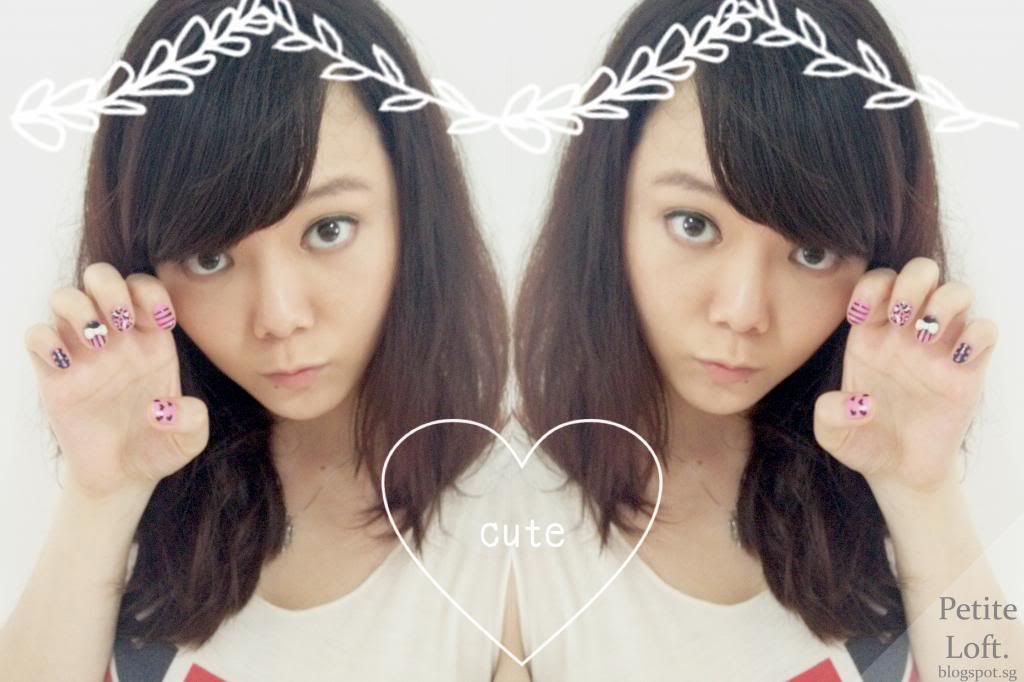 Once again, Thank you, Myntefingers for the beautiful set of nails!
Received alot of compliments for them!! *heehee*
Check out Myntefingers here!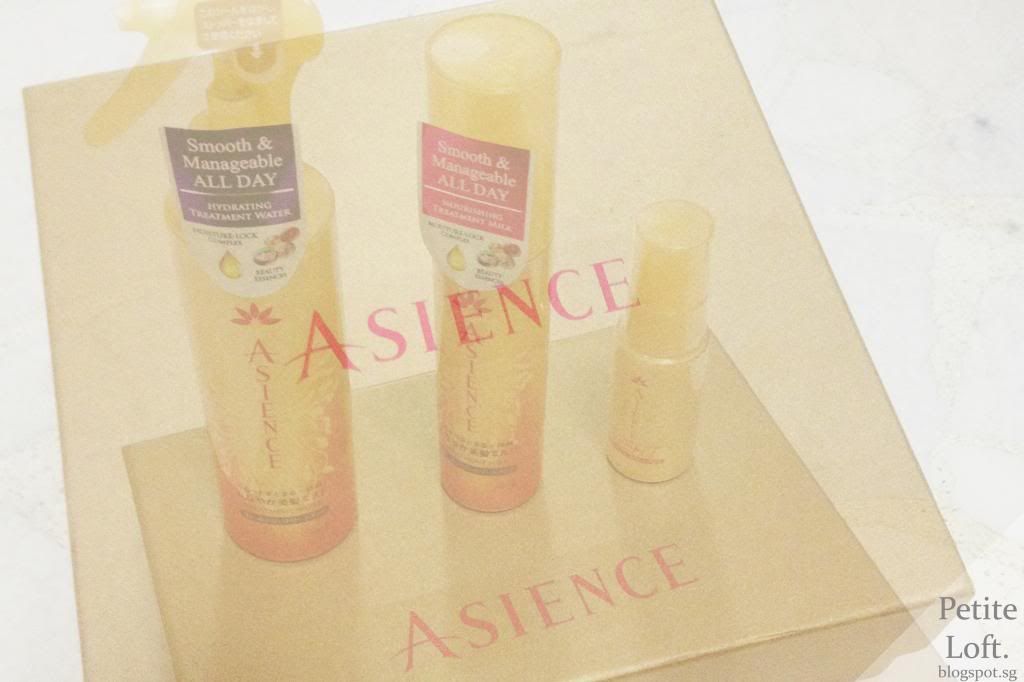 OMG. I can't tell you how happy I am when I actually got this box of leave-on treatments from Asience to try out! Another chance to achieve my dreams of having tamed hair all day!
Trust me, after all these years of putting my hair to chemical tortures, I am hoping to achieve the littlest of all- Tamed hair. Not asking for smooth, silky, flowy, straight hair in my current condition. I just want them neat and tidy.
Despite spamming heaps of conditioner, leave on treatments, spraying my hair with all kind of nourishment promising product like crazy, my hair is still as bad a condition as it has always been. Even after application, I would regain the lion mane within an hour when I head out. Is it the texture of my hair? Or the nutrients that I partake don't head up to my head and disperse to my hair?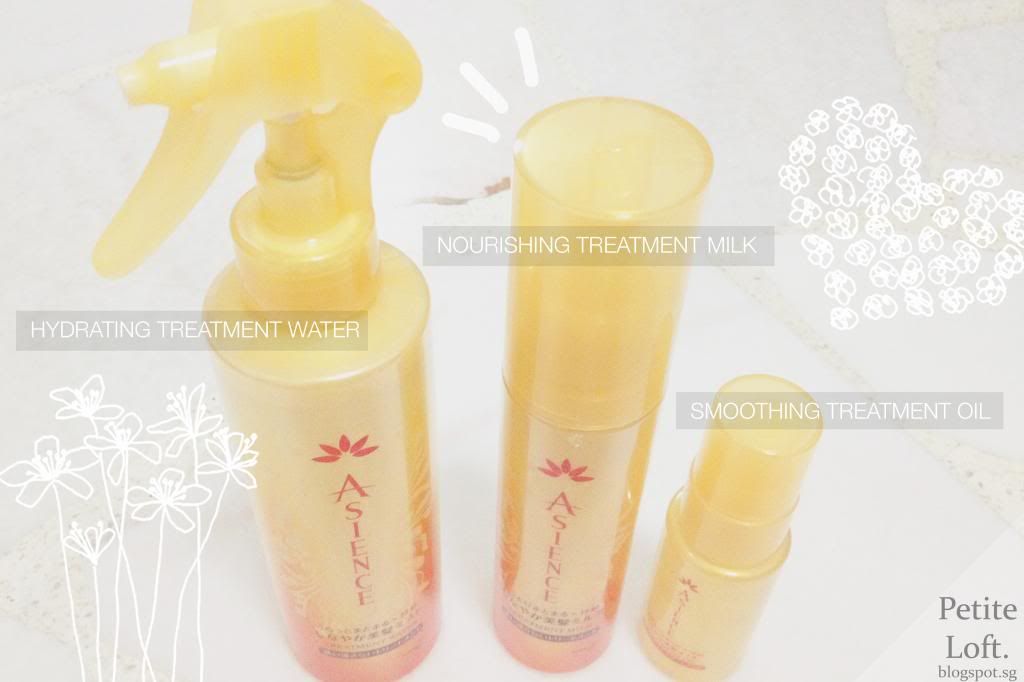 And now, with 3 new products in the new collection, Asience, promise to moisturize and smooth hair for all day!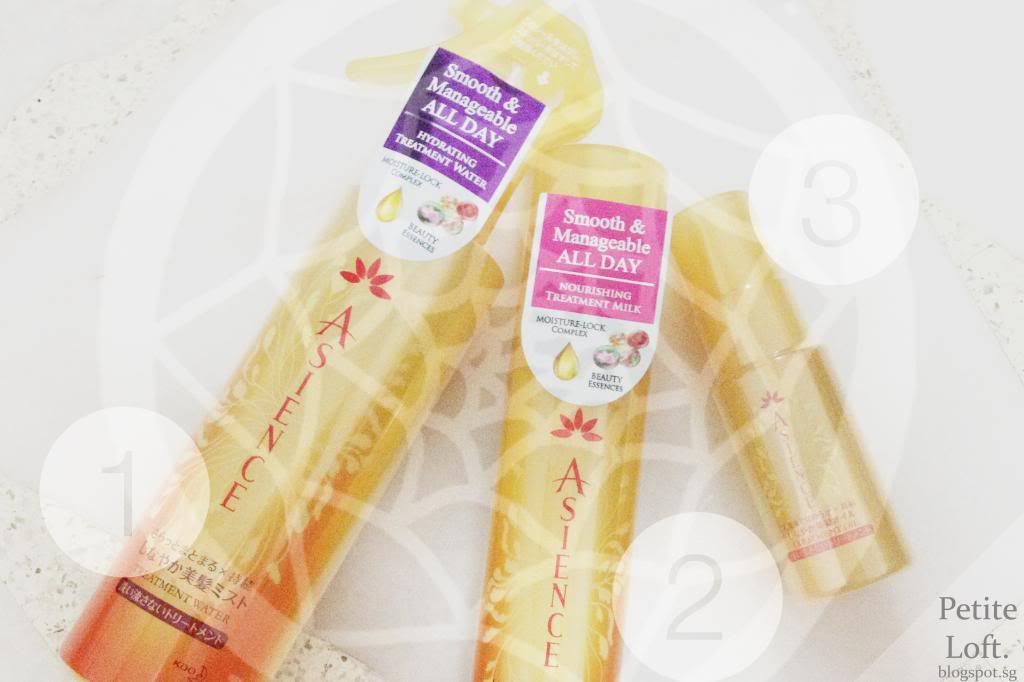 Using the product for a week, here's my personal opinion(s) and review(s):
1.
ASIENCE Leave-On Treatment Water :
For Tangled and Untamed Hair
It sprit

z out a fair bit of mist
which
coats the surface of my target area fairly well. After blow drying, My hair did feel softer, less tangled. However, without application of any additional hair product, the lion mane regain its glory in just the

15 mins.
Even after shower, spraying it all over like a mad woman, on towel dried hair, it did not last very long with the

breeze.
A

rather chemical like

smell was present though. So don

't expect

floral notes or fruity

-

tutti scents

!
2.

ASIENCE Leave-On Treatment Milk:
For dry and frizzy hair
The product is easy to apply on the hair. Doesn't leave a greasy or sticky after feeling on the hands. The smell was pretty acceptable. A hint of powdery floral tones. It does help in toning down my lion mane. But not to the expectations that I have in mind. However, maybe after a few more weeks, it would be? Maybe.

On the other hand, the anti-frizz didn't work out well. Maybe it's just the terrible condition of my hair.. *facepalm-sighs*
3.

ASIENCE Leave-On Treatment Oil: For Severely Dry and Damaged Hair
Honestly, I do believe my hair is in this category. Very annoyingly dry and damaged. This product was pretty helpful. My hair did felt alot smoother after application. But the frizz were not ironed out still. And as for the fact that it is a treatment oil, it still leave a slight oily feel on the palms but it isn't much of an uneasy feeling for me.
So faithfully I applied all 3 daily and the final verdict is..
It does moisturize my hair efficiently.However, my hair's frizzy state wasn't tamed. Promised by the products, it does have a good power in keeping hair more tamed, for a few more hours compared to others that I have tried. Not all day though.
I love how the Treatment Oil is so small in packaging that I can easily put it in my bag and apply it when the frizzy starts to go a little craycray.
ASIENCE Leave-On Treatment range retails at
$14.90
and is available from April'2013 at selected hypermarkets, supermarkets and pharmacies.
For more product inf
o, Click here!